(Photos by Jodi Vosika)

by Dave Franklin | MCLA.us

TEMPE, Ariz. – Casey Connor is in his first year as head coach at Arizona State and is fortunate to inherit a great senior class.

It is important to note that while this is Connor's first season, he is no stranger to the program. Casey played at Maryland with former ASU coach, Chris Malone.

Serendipitously, Connor moved to Tempe when his wife, Courtney (also a Maryland alum) accepted the job as head coach of Arizona State's NCAA D-I women's lacrosse team. Malone started the process of recruiting Connor into his old position, which had seen a lot of turnover since Malone's departure.

Malone, Connor and Mrs. Martinez-Connor (then, just Martinez) were all friends at Maryland and spoke about the family atmosphere.

"At Maryland, the guys team and the girls team were close friends and we happen to be in a great position where we can replicate that here at ASU," said Martinez-Connor. "It does not matter the level, D-I, MCLA, whatever, our student athletes support each other.

"Our four young children support both teams and help distribute water to the players. Casey and I both have athletes who came a long way from their hometowns to play at ASU, so the family aspect is healthy in so many ways. My husband coaches every team the same. I can't speak for other MCLA programs, but as far as I'm concerned, Casey is coaching this team as if it was NCAA D-I."

In my mind, the older brother(s) always play a pivotal role in the family dynamic, so I would like to thank Coach Connor and his senior class for taking their time to answer these questions.

Dave Franklin: Last year was the first time since 2009 that ASU did not make it to the MCLA National Championships powered by Under Armour. How much does that motivate you in 2019?

Daniel Cava: Last year left a lot to be desired for everyone involved, and we all knew coming back that we had to turn things around. This year has been all about improving ourselves as a team and moving forward, whether that is long term from year to year, or short term from day to day, and even drill to drill.

Jake Marthens: It was more important for us to come into this year with a clean slate and not think about the past too much. We had a disappointing season last year, but I think, for the most part, our returners were just excited to get back on the field and prove to the league who we really are.

Kai Welsh: It's absolutely a huge motivator. No one wants to be the part of the group that let a perennial Top 10 team slip into irrelevancy.

DF: Your class has seen a lot of coaching changes. What's been the key to maintaining a level of consistency during that turnover?

Jordan Fox-Fick: Having players who care for one another and the team they represent has definitely helped a ton.

Vito Diperte: Respect among the players. The seniors have set an example of hard work every year I've been here. Now it's our turn to do the same.

Tom Sanchez: Unity. It was the one key ingredient we were missing last year that cost us everything. This is the closest family we've had since I started playing here and it shows on and off the field.

Johnny Perlite: The key for our class has been to maintain our chemistry with each other. Coaches have come and go, but the players, especially in my senior class, have been the constant factor the program.

DF: What's the most important thing that Coach Connor has brought to the program so far?

Ross Andrews: Culture. Coach Casey holds people accountable when something is not done the right way, and it trickles down to the seniors and then to the freshmen.

Trevor Driscoll: Coach Connor has brought a tremendous amount of knowledge to the team. He understands the game better than anyone I have ever met before. However, I think the most important factor he brings is his ability to understand the players and his emphasis on creating a new culture.

Niall McGlaughlin: Coach Casey has brought some solid East Coast fundamentals that some of us have not had the privilege to learn growing up and it has stepped up our game greatly.

DF: James Harden or Pat Tillman?

Daniel Cava: Definitely Pat. As much as I love basketball and I think that Harden is incredibly entertaining to watch, at the end of the day he just plays basketball. Pat Tillman was a different class. You can't compare his sacrifice to anything on a football field or a basketball court.

Niall McGlaughlin: Even though I wear number 42, I have to go with Harden. He is unstoppable.

Justin Gray: Pat Tillman all day!

P.J. Koestler: Pat Tillman every day. He is the heart and soul of ASU.

Kai Welsh: Harden. When it's all said and done, he'll be on the Mount Rushmore of basketball.

DF: What are your favorite lunch spots on and off campus?

Jake Marthens: Ahi Poke and Berry Divine

Jordan Fox-Fick: Canes tops everything. If you don't fully believe that you're honestly fooling yourself.

Ross Andrews: Can't go wrong with Taco Tuesday at Fuzzy's.

Johnny Perlite: Chick-Fil-A on campus, Chop Shop off campus.

DF: Fill in the blank: the lacrosse team at the University of Arizona is good at ______.

P.J. Koestler: Boosting our stats.

Niall McGlaughlin: Losing to ASU. No pity for the kitty.

Johnny Perlite: Dealing with Tucson.

Ross Andrews: Giving up the Territorial Cup.

Trevor Discoll: Losing to ASU (I think 10 years in a row now).

Tom Sanchez: I prefer to leave that one blank.

Daniel Cava: Making the bus ride up here? Nah, but they actually bring a good energy every time we play them and I never expect an easy game.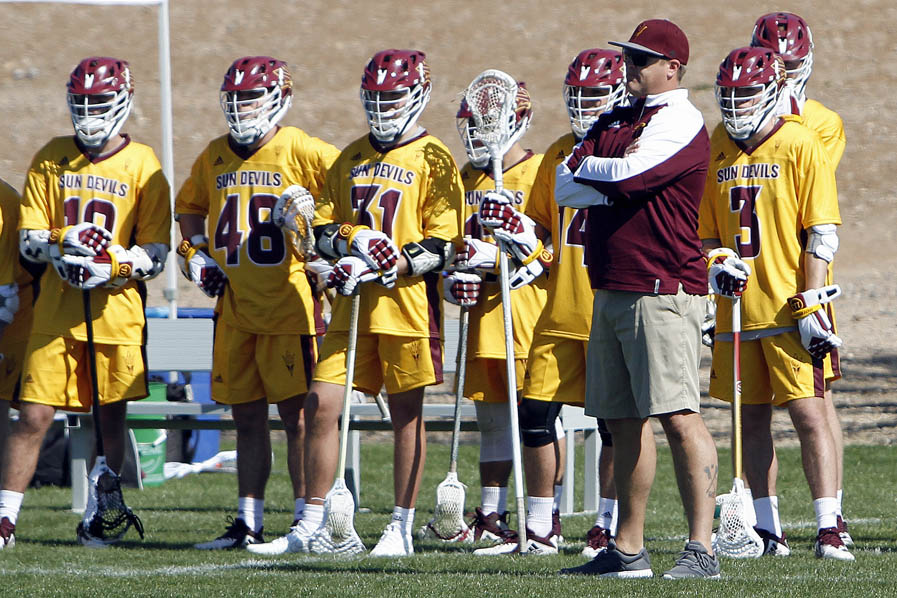 DF: Who is the best individual player you've gone up against over the course of your MCLA career?

Ross Andrews: Johnny Perlite, hands down. Practicing with the best goalie in the MCLA week in and week out humbles you. He's great from outside, he's lights out from inside, one of the best goalies I have ever seen.

Daniel Cava: I'd say Dylan Garner from Chapman a few years ago. I don't know how, but he could go through two or three guys like it was nothing, no matter who it was.

Kai Welsh: I'm a bit biased since I played with him for two years, but my boy Peter Brydon (the goalie at UC Santa Barbara) is an absolute animal.

Jordan Fox-Fick: Jake Marthens. Who else? Come on now.

DF: What's more fun to attend: ASU football games, basketball games or ice hockey games?

Tom Sanchez: ASU basketball games are just too exciting.

Trevor Driscoll: The football games are the most fun to attend at ASU. My roommate is on the team, so my buddies and I will always try to get front row and distract him during the games.

Vito Diperte: Football.

P.J. Koestler: Hockey games, for sure. They play in a really small barn that barely packs 1,000 fans, which makes it that much more louder.

DF: What are your thoughts about the current presence of the sport in the state of Arizona?

P.J. Koestler: Being from the East Coast, I didn't know if there even was lacrosse out here, but after being here for three years, I can see that lacrosse has come a long way and it just keeps expanding throughout the desert.

Johnny Perlite: I can see how much it is growing the past few years and there is a lot of potential for the sport in Arizona.

Justin Gray: It's on the rise. I wish lacrosse in Arizona was as competitive as it was when I was in high school, but Arizona is heading that direction again.

Vito Diperte: It's definitely growing and getting better every year.

DF: Based on logos, colors and player personal, which PLL team is your favorite?

Ross Andrews and Justin Gray: Archers, Attack group with Manny, Holman and Rice is deadly.

P.J. Koestler: Atlas by far. The coaches cut their teeth in the MCLA and their roster is also stacked at every position.

Trevor Driscoll: I'm kind of out of the loop with the PLL stuff, but whichever team our former assistant coach, Pat Harbeson, is on.

Tom Sanchez: Redwoods! We have to cheer on our boy Pat!

DF: How important is the alumni network to the program?

Johnny Perlite: Very important, especially because they are so active in trying to help us with our career path when we graduate.

Trevor Driscoll: We've actually begun to place a ton of emphasis on alumni relations this year, which I think is awesome. We have a great group of alumni who love the school and the program, and we have gotten together with them for dinners, lunches, fundraisers, and of course, the alumni game (which we won).

Jake Marthens: The alumni network has been a big focus over the past year and it will only continue to get better. I constantly get texts from former players after games, which shows the family atmosphere we have here.

Vito Diperte: It's crucial. Without the alumni there isn't much of a program. They paved the road for where we are at today.

Daniel Cava: It's becoming more important and much more effective every year. As someone who will be looking for a job fairly soon, it's great to have access to a network of people who share that connection and can help get you in the door somewhere.

DF: What's the best piece of advice you could give to an incoming freshman who will become a Sun Devil lacrosse player next fall?

Jake Marthens: Listen to the older guys as well as the coaches and always be willing to learn. No matter how good you think you are, there is always room to become a better lacrosse player.

Kai Welsh: You get out what you put in. There are days where it's going to suck – the early mornings, the wear and tear, missing fun social events – but if you buy in to the whole process and especially the guys to the left and right of you, it's going to give you so much more than what you miss.

Jordan Fox-Fick: Don't waste your time. You'll never know when your last moment playing is going be so play like every day is your last. Leave it all out there so the doubters can't say anything.

Tom Sanchez: Come ready to grind and compete. ASU isn't messing around anymore.

DF: How would you want this senior class to be remembered?

Johnny Perlite: For winning the SLC and a natty!

P.J. Koestler: As the ones that never gave up in any situation we were in, but also always gave our all, day in and day out, for our team.

Niall McGlaughlin: I want this senior class to be remembered as the class that led ASU to a national championship.

Justin Gray: I want this class to be remembered for changing the culture at ASU, to making everyone more a part of the team. Also, being the first class to win ASU a national championship!