Opinion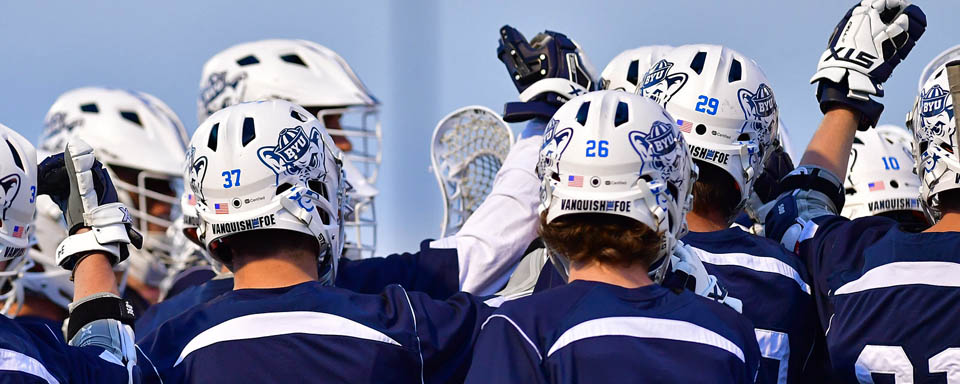 The Reverb: Dangerous Times
by Jac Coyne | MCLA.us

LA CROSSE, Wis. – One of the consequences of Utah leaving the MCLA was that it dipped the RMLC-I below the threshold to retain an automatic qualifying bid to the 2019 MCLA National Championships powered by Under Armour.

For the most part, that news was met with a collective shrug during the offseason.

Colorado and Brigham Young were going to get at-large bids and if Colorado State could have that rebound year we expected, sending three from the RMLC wasn't too far-fetched. Maybe even a rising Utah Valley team would ride the wave to nationals.

Ten days into March and all of a sudden that lost AQ is starting to look like a problem.
A big problem.
FRIDAY'S RESULTS | SATURDAY'S RESULTS | SUNDAY'S RESULTS

Colorado is ranked in the Top 10 right now, but if it doesn't at least split during its Chapman-Concordia weekend a fortnight from now, the Buffs signature win will be No. 15 Grand Canyon – a team scratching and clawing to stay in the discussion itself.

Colorado State is ranked and has a ranked win over No. 22 Oregon, but the Rams have lost three straight and are now chasing both Grand Canyon and Clemson. Utah Valley is 4-0 with no ranked wins, so we really won't be able to pass judgement until they head for the desert next week.

That leaves us with Brigham Young, who feels the biggest effects of the lost auto-bid.

During its run of 22-straight appearances at nationals – the Cougars are the only team to qualify for every MCLA tournament – there have been some near misses. Alas, one of the hallmarks of the BYU program has been its tendency to peak during conference tournament time.

A lot of that has to do with the annual turnover for which the Cougars must compensate, meaning all of the returning missionaries aren't fully integrated until sometime in late April.

Honestly, I have little doubt this will happen again. Unfortunately, there's no free pass waiting at the end.

The Cougars currently sit at 3-3 with their best win coming in their last game against Grand Canyon. With eight games left on the regular season schedule and no AQ, BYU will probably have to finish 6-2 and make it to the RMLC title game to feel anywhere comfortable on Selection Sunday.

For my money, BYU's streak is the most impressive record in the MCLA. Even more so than the six championships by Colorado State. It speaks to consistency, dedication and maybe even a little bit of luck.
There were 21-straight graduating classes that handed the baton to the group of guys in front of them with one expectation.

Odds are, however, that the streak will be halted at some point. Are we at the end times?
Passing Judgement
Once again, Judgement Weekend provided outstanding MCLA Division II lacrosse and crappy weather. Let's rank the seven teams in terms of how successful the weekend was.

1. Dayton – A clean sweep of FGCU, CCSU and St. Thomas keeps the Flyers undefeated and raises expectations for the nearly-forgotten UMLC team. A No. 10 seed last year, Dayton has an unlimited ceiling at this point – a place few thought they'd be. And by few people, I mean me.

2. Kennesaw State – The Owls went 1-1, but they finally got a signature win that the entire program can hang its hat on. A win over St. Thomas resonates every year – it's basically a free ticket to nationals – and should provide Alex Gavilla's crew with unlimited confidence. The Owls also went after Duluth on Sunday before falling.
The gang went 1-1 at Judgement weekend playing #1 and #2. Not satisfied. See you back in Kennesaw 3/23 when @DavidsonMensLAX comes to town. #MCLA #SELC
: @damienprosser pic.twitter.com/amhXhDaI1O
— KSU Men's Lacrosse (@KSU_MLAX) March 10, 2019
3. Duluth – Heavy is the head that wears the crown, and the 'Dogs successfully defended their top ranking. FGCU and Kennesaw made a run at them, but they parried the attack. Solid business trip.

4. Grand Valley State – Heading into the weekend I think everybody outside of the program would have predicted the Lakers to go 2-1, and that's what they did. GVSU is the same steady, disciplined outfit that you can bank on being in at least the semifinals once again.

5. Central Conn. State – Brendan Frobel knew the wins would be scarce in Nashville as his ranking was an outlier. Sure, they went 0-3, but the rest of the CLC season is going to feel pretty comfortable having just run the Dayton-GVSU-Duluth gauntlet.

6. Florida Gulf Coast – Anybody who has watched FGCU isn't worried about them going 0-3 at Judgement because this is obviously a quality team. Dayton caught the Eagles a little off guard, but they hung tough with both GVSU and Duluth. Alas, someone has to be sixth.

7. St. Thomas – Program expectations plays a role here. The bar is just too high for a 1-2 weekend to not be troubling.
My Top Fives
Division I
1. California (8-0) – South Carolina's loss in SoCal clears the decks for the Bears.
2. Georgia Tech (8-0) – Tech looked sleepy in near-miss against UConn.
3. Arizona State (6-1) – The Devils in-game adjustments make them dangerous.
4. Concordia-Irvine (7-0) – Nothing threatening until the Colorado trip.
5. Liberty (5-0) – Michigan road trip will test Flames mettle.

Division II
1. Minn.-Duluth (5-0) – #TCB.
2. Dayton (6-0) – Are the Flyers back? The Flyers are back.
3. Kennesaw State (8-1) – Despite the Duluth loss, the Owls have arrived.
4. St. John's (2-0) – Johnnies treading water gets them back in the mix.
5. Loyola Marymount (6-1) – We'll give a little West Coast love to the Lions.

Congrats to Claremont's Scott Witkin for his first MCLA D-I victory -- and the Cougars first SLC win since '17 -- in the 9-8 triumph over San Diego State on Saturday. #mcla19 pic.twitter.com/Jvd7PqRW97
— MCLA Tournament '19 (@MCLA_Tournament) March 10, 2019
Slides & Rides
Division I
The loss to Chapman stings a little bit for South Carolina, but if the Gamecocks leave SoCal with wins over UCSB and BYU, that's a solid trip…on the flipside, Chapman is starting to pile up quality wins…big test for Stanford on Monday as they host Virginia Tech…a lot of people – me included – thought Minnesota would coast to the UMLC AQ. They still might win it, but it will be out of the cold, dead hands of the Hoosiers, who are a handful…am I the only one who thinks it's pretty cool that Colorado State is traveling to Northeastern and UNH this weekend? A sweep would be a huge for the Rams.

Division II
College of Idaho made a huge statement about the PNCLL by mopping the floor with Montana, 20-10. It's only right, however, that any rematch will be in Missoula…Southern Oregon was looking to go 5-0, but Central Washington threw up the roadblock, knocking off the Raiders, 10-9, in double overtime on Sunday...Louisiana's loss to Southeastern Louisiana wraps up the top seed out of the LSA East for Rice...Texas A&M-Galveston has the keys to the_mcla Snapchat account for their trip to Colorado. Check it out!

Make sure to get those nominations for the Commanding Performance of the Week powered by Under Armour and Pearl's goalie of the Week to [email protected].