Opinion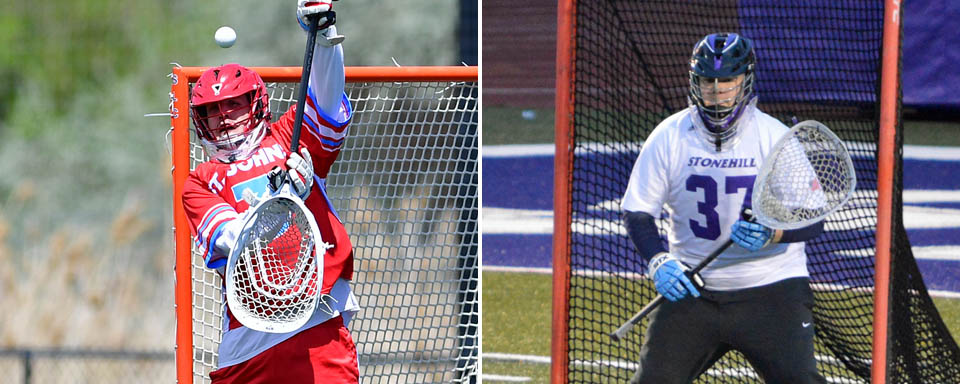 D-II Quarters: Stonehill at St. John's
COLLEGEVILLE, Minn. – The dome is down on Gagliardi Field and the fresh foot of snow has been shoveled away, making way for a quarterfinal throwdown between St. John's and Stonehill.

Both of these teams were on pace for specials seasons in 2020, led by a couple of under-the-radar seniors who deserve recognition.

For the Skyhawks, it's Will Palladino.

Palladino, an Ardsley, N.Y., product who is finishing up a finance degree, joined Stonehill as a sophomore and has quietly done everything that was asked of him.
D-II Quarters: Stonehill at St. John's | https://t.co/OaICQrenif #virtualmcla20
— MCLA Tournament '21 (@MCLA_Tournament) April 14, 2020
"Will is a glue guy — the kind of player that holds the team together," said Stonehill coach Joe McDonough. "Always at practice, always working hard, always attentive. Doing whatever the coaches ask of him and ready to go when his number is called."

Dependability is Palladino's calling card, filling any long-pole defensive role that the Skyhawks need, especially on the man-down unit. Picking off skip-passes is his specialty.

"Will is a guy you can count on to always show up and give you everything he's got," said Stonehill defensive coordinator Jon DeBoer.

On the other side of the field, Sam Ruzynski has been a jack-of-all-trades for the Johnnies.

During his freshman year, the Blaine, Minn., native was a midfielder and shorty. He played close defense his sophomore year and followed that up with close defense and midfield during his junior campaign.

This spring, the accounting/finance major was slotted as a midfielder and attack on the man-up.

Ruzynski was a renaissance man, spending last summer in Australia pursuing an internship opportunity while also training for – and finishing – a marathon.

"Sam was on man-up this year and was having a great year, consistently creating opportunities or capitalizing on his chances," said St. John's coach Derek Daehn. "He is the definition of selfless teammate. Talent is hard to replace, but there are players that are glue and help hold the team together. That is Sam."

In the virtual realm, this will pit a pair of small schools against each other.

No. 32 Stonehill, the last team into the field, has already upended top-seeded Kennesaw State and Missouri State – two larger schools – in the opening two rounds and will be a handful again.

No. 9 St. John's also showed some pop for a smaller student body, bouncing North Florida and Colorado Denver to make the quarterfinals.

Who has the most heart to earn a bid to the semifinals?